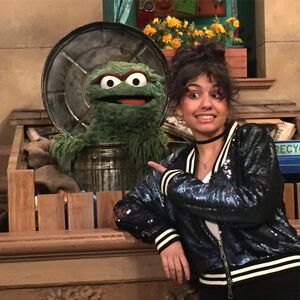 Alessia Caracciolo (b. 1996), known by her stage name Alessia Cara, is a singer-songwriter from Brampton, Ontario, Canada. She released an album called Know-It-All in 2015. Cara also performed on the soundtrack of Disney's Moana.
Cara will appear as a guest star on Sesame Street's 48th season. She also appeared alongside Elmo in a #ShareTheLaughter video, released online on August 30, 2017.
External links
Ad blocker interference detected!
Wikia is a free-to-use site that makes money from advertising. We have a modified experience for viewers using ad blockers

Wikia is not accessible if you've made further modifications. Remove the custom ad blocker rule(s) and the page will load as expected.