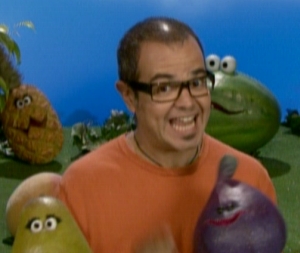 Aleks Syntek (b. 1969) is a Mexican songwriter and performer.
Syntek appeared in a 2006 episode of Plaza Sésamo performing the song "Ricas Frutas," spoofing his own hit "Nuestro Jardin." Syntek's performance of the song was also included on the 2008 album Sesame Street Playground, with the bonus DVD including the TV version.
Ad blocker interference detected!
Wikia is a free-to-use site that makes money from advertising. We have a modified experience for viewers using ad blockers

Wikia is not accessible if you've made further modifications. Remove the custom ad blocker rule(s) and the page will load as expected.