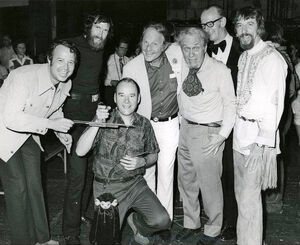 Albrecht Roser is a German puppeteer. He was featured in an episode of Jim Henson Presents.
"This program features West German puppeteer Albrecht Roser, who works almost exclusively with marionettes that he has crafted himself. Taped before a live audience at the Stuttgart Puppen and Figuren Theater, excerpts from Roser's performance are interspersed with interviews conducted by Henson." (taken from the World of Puppetry VHS release.)
Ad blocker interference detected!
Wikia is a free-to-use site that makes money from advertising. We have a modified experience for viewers using ad blockers

Wikia is not accessible if you've made further modifications. Remove the custom ad blocker rule(s) and the page will load as expected.