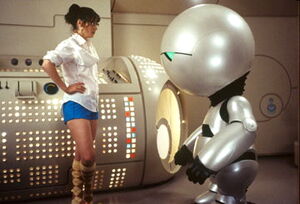 Alan Rickman (1946-2016) was an English stage and film actor. His film roles included Professor Severus Snape in the Harry Potter series of films, Hans Gruber in Die Hard, Metatron in Dogma and the Sheriff of Nottingham in Robin Hood: Prince of Thieves. He was known for a distinctive voice and line delivery style.
Rickman provided the voice of Marvin the Paranoid Android in the 2005 film The Hitchhiker's Guide to the Galaxy, with effects by Jim Henson's Creature Shop.
External links
Ad blocker interference detected!
Wikia is a free-to-use site that makes money from advertising. We have a modified experience for viewers using ad blockers

Wikia is not accessible if you've made further modifications. Remove the custom ad blocker rule(s) and the page will load as expected.