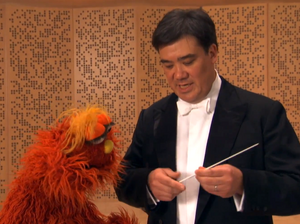 Alan Gilbert (b. 1967) is an American conductor and violinist and current Music Director of the New York Philharmonic, debuting in 2009.
Gilbert appeared in a 2013 episode of Sesame Street as the subject of Murray Monster's "People in Your Neighborhood" segment. He teaches Murray what he does a conductor, introduces him to the baton and allows him to play cymbals with the Juilliard students in a rendition of "Eine kleine Nachtmusik."
External links
Ad blocker interference detected!
Wikia is a free-to-use site that makes money from advertising. We have a modified experience for viewers using ad blockers

Wikia is not accessible if you've made further modifications. Remove the custom ad blocker rule(s) and the page will load as expected.