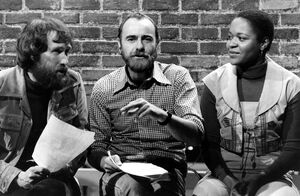 Alaina Reed (November 10, 1946 - December 17, 2009) played Olivia Robinson on Sesame Street from 1976 to 1988. She also appeared in the Sesame Street specials Christmas Eve on Sesame Street and Don't Eat the Pictures, and in the movie Follow That Bird.
Early Career
At the start of her career, Reed appeared as a Jet magazine cover girl, and was known to her friends as Tiny. She is a native of Springfield, Ohio, and graduated from South High in 1964.[1]
Olivia on Sesame Street
Her Sesame Street character, Olivia, was Gordon's little sister, introduced in a 1976 episode in which she explained to Gordon that she was a grown-up, and didn't need his help anymore. Olivia worked as a photographer, and like all the Sesame adults, she spent a lot of time with the kids and Muppets on the Street. She was known for her strong singing voice, taking the lead on "Children of the World, "Sad" and "Mothers and Children". She performed a duet with George Benson in the 1980s, "A Friend for All Seasons", and was featured in "One Little Star" in the 1985 Sesame film "Follow That Bird".
Post-Sesame Street
Beginning in the fall of 1985, Reed played landlady Rose opposite Marla Gibbs in the sitcom 227. That series was taped in California, while Sesame Street is taped in New York. For a few years, she continued to work on both shows, but finally left Sesame Street in 1988. 227 continued until 1990.
Beginning in 1989, Alaina Reed was professionally known as Alaina Reed Hall, following her marriage to the late Kevin Peter Hall, the actor who played Harry in Harry and the Hendersons and the title role in Predator. She remained active as an actress in television, films, commercials, and cartoon series, appearing as a regular on the short-lived sitcom Cleghorne, and making appearances in Friends, Lois and Clark: The New Adventures of Superman, NewsRadio, The Suite Life of Zack and Cody, and the film Cruel Intentions.
In 2008, Reed married Tamim Amini.[2]
Reed is featured in the 2009 documentary Breast Cancer Examined: An African-American Perspective. The producer, Gina Holland, knew Reed as a girl growing up in Springfield. [3]
On December 17, 2009, she tragically lost her two-year battle with breast cancer. She was 63 years old.
See also
Sources
↑ Springfield News-Sun "Mr. Krabs and Sesame Street's Olivia called our area home" June 12, 2007 by Andrew McGinn
↑ McLellan, Dennis. "Reed Hall dies at 63; actress was Olivia Robinson on Sesame Street, Los Angeles Times. December 22, 2009.
↑ Andrew McGinn, "Springfield native - 'Olivia' from Sesame Street - in breast cancer documentary", Springfield News-Sun, October 9, 2009.
External links