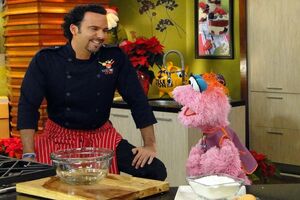 Al Sabor Del Chef is a Mexican cooking show, hosted by professional chef Alfredo Oropeza. It's currently broadcast on Televisa's Canal 2, known as "El Canal De Las Estrellas."
Plaza Sésamo's Lola made a guest appearance on the show on November 26th, 2010. She cooked waffles with help of Chef Oropeza, while saying to the audience they're a sometimes food that should be eaten only on special occasions. She also talked about the importance of having a well-balanced diet and participating in exercise routines.
Gallery
External Links
Ad blocker interference detected!
Wikia is a free-to-use site that makes money from advertising. We have a modified experience for viewers using ad blockers

Wikia is not accessible if you've made further modifications. Remove the custom ad blocker rule(s) and the page will load as expected.