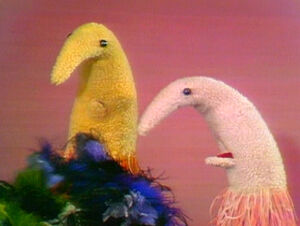 Aggression is the title of a sketch featured in The Muppet Show: Sex and Violence. The script describes the sketch as follows:
| | | |
| --- | --- | --- |
| " | Two really gross clumps of crud - fabric - feathers and foam - maybe just mouths - realistic red interior and teeth. One has club which he smashes the others from time to time. The other hits with fist. They just make guttural sounds to each other - dialogue is to show inflection only and is completely unintelligible. | " |
The characters featured are listed in the script as Green Heap, Purple Heap, Pink Stalk and Gold Stalk. However the stalks refer to each other in the script as "George" and "Martha".
The title of the sketch, along with script notes, were released by Karen Falk (Henson Company archivist) in an installment of Ask Henson.com.