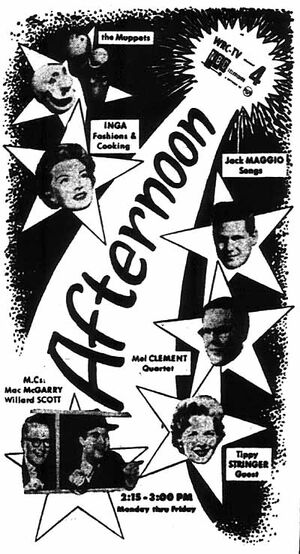 Afternoon with Inga (aka Afternoon) was a local show that aired on WRC-TV, the NBC affiliate in Washington, D.C., from March 7, 1955[1] to 1956. The show aired live in the afternoons, with a mix of news and variety-show segments. The cast included Jim and Jane Henson, with the Muppets.
The show premiered as Afternoon on March 7, 1955 and predated the Hensons' Sam and Friends by two months.
Willard Scott and Mac McGarry were the original hosts of Afternoon. Scott and McGarry left the show in late spring. Scott went on to play Bozo the Clown on WRC and made the first TV appearances as Ronald McDonald. Later, Scott became a weatherman on NBC's The Today Show.
The cast and format for the show were revamped a number of times. On November 7, the name of the show was changed to Afternoon with Inga, spotlighting fashion model and TV host Inga Rundvold.
The show left the airwaves in May 1956.
Sources
External links
Ad blocker interference detected!
Wikia is a free-to-use site that makes money from advertising. We have a modified experience for viewers using ad blockers

Wikia is not accessible if you've made further modifications. Remove the custom ad blocker rule(s) and the page will load as expected.