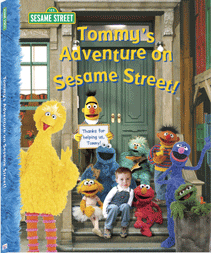 Adventure on Sesame Street! is a 40-page book that allows consumers to personalize the story with personal photos. The publisher's website lists the title as My Adventure on Sesame Street, which changes dependant upon whom the book is customized for.
See also
External links
Ad blocker interference detected!
Wikia is a free-to-use site that makes money from advertising. We have a modified experience for viewers using ad blockers

Wikia is not accessible if you've made further modifications. Remove the custom ad blocker rule(s) and the page will load as expected.