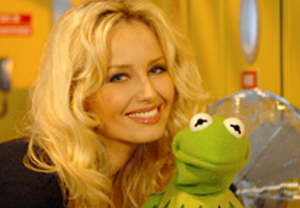 Adriana Karembeu (b. 1971), maiden name Adriana Sklenaříková, is a Slovak fashion model who, due to her marriage to soccer star Christiam Karembeu, has become a frequent talk show guest in France. She was one of two featured guests in the October 29, 2006 episode of Muppets TV, the new French update of The Muppet Show.
Karembeu also appeared in the 2008 Asterix movie Asterix and the Olympic Games, along with Gérard Depardieu and Franck Dubosc.
Ad blocker interference detected!
Wikia is a free-to-use site that makes money from advertising. We have a modified experience for viewers using ad blockers

Wikia is not accessible if you've made further modifications. Remove the custom ad blocker rule(s) and the page will load as expected.