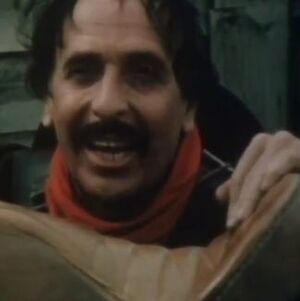 Adolfo Thous was a Spanish character actor and a veteran Western player. For the German Sesame Street co-production Sesamstrasse, he played the leader of the Dollar gang in a series of five filmed inserts, shot in Spain in 1980. Called "Verkehrswestern," the segments focused on traffic safety, and Thous' dialogue was dubbed into German (by Arnold Marquis, the German voice of John Wayne).
Thous appeared in several 1970s Westerns, including Chino, Bad Man's River (with James Mason), A Town Called Hell (with Martin Landau), Pancho Villa (with Telly Savalas), The Spikes Gang (with Lee Marvin and Ron Howard), and A Man Called Noon. Outside of the West, he played Black Dog in the 1972 Treasure Island (with Orson Welles) and was seen in the Spanish horror films Dr. Jekyll Versus the Werewolf and Hunchback of the Morgue (both with Paul Naschy).
On television, he appeared in a Spanish version of Les Miserables and made single episode appearances on such international fare as the German series Im Auftrag von Madame, the French seafaring drama Jo Gaillard, and the Italian TV movie Socrates.
External links
Ad blocker interference detected!
Wikia is a free-to-use site that makes money from advertising. We have a modified experience for viewers using ad blockers

Wikia is not accessible if you've made further modifications. Remove the custom ad blocker rule(s) and the page will load as expected.