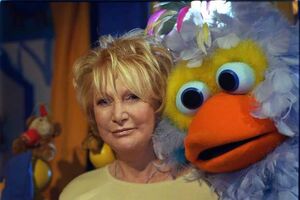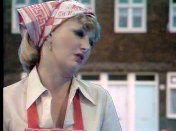 Adèle Bloemendaal (b. 1933) is a Dutch actress, comedian and singer who played a letter vendor on Sesamplein, the pilot for the Dutch co-production of Sesame Street.
Bloemendaal pushed a cart full of letters down the street, for "one guilder a pound!" She sang the song "Letters for sale" about the letter T.
The letter vendor would not appear on Sesamstraat, but 'cabaretiere' Adèle Bloemendaal made one celebrity appearance during the 25th anniversary season. In that segment she reads Pino, Tommie and Ieniemienie their bedtime story.
Ad blocker interference detected!
Wikia is a free-to-use site that makes money from advertising. We have a modified experience for viewers using ad blockers

Wikia is not accessible if you've made further modifications. Remove the custom ad blocker rule(s) and the page will load as expected.