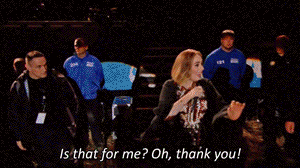 Adele Laurie Blue Adkins (b. 1988), known by her stage name Adele, is a British singer and songwriter. Her first album was released following success on MySpace, and she has since gone on to win several Grammy Awards and an Academy Award for the James Bond film Skyfall.
References
In November 2015, Miss Piggy appeared in a promo for The Muppets spoofing Adele's music video for the recently released single, "Hello". Mimicking the video's sepia tones, Piggy lip-syncs to Adele's vocals with flashbacks to her relationship with Kermit. In the present, Piggy appears outside on a windy day getting dried leaves blown in her mouth, while in the past, she's smooshing Kermit's face and throwing office supplies at him. The video ends, in color, with Kermit at his desk answering the phone with silence on the other end.
In The Muppets episode "A Tail of Two Piggies", Miss Piggy says she's working on a new album, Piggy: 25, a reference to Adele's album, 25. Although, in Piggy's case, she says it's give or take (a few years).
External links
Ad blocker interference detected!
Wikia is a free-to-use site that makes money from advertising. We have a modified experience for viewers using ad blockers

Wikia is not accessible if you've made further modifications. Remove the custom ad blocker rule(s) and the page will load as expected.