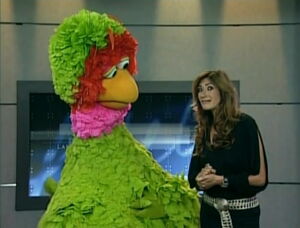 Adela Micha (b. 1963) is a Mexican journalist and actress. She appears on the news program Las Noticias por Adela and presented the first two seasons of the reality show Big Brother in Mexico.
She appeared in Episodio 877 of Plaza Sésamo to explain to Abelardo that breakfast is the most important meal of the day, and again in Episodio 888 with her Multimuppet field reporter to cover Pancho's one-man band.
External links
Ad blocker interference detected!
Wikia is a free-to-use site that makes money from advertising. We have a modified experience for viewers using ad blockers

Wikia is not accessible if you've made further modifications. Remove the custom ad blocker rule(s) and the page will load as expected.