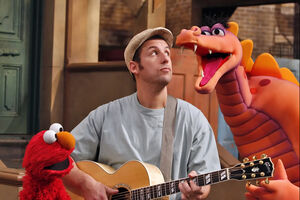 Adam Sandler (b. 1966) is an American comedian, actor, musician, screenwriter and film producer. He is best known for his work on Saturday Night Live, and in such films as Billy Madison, Happy Gilmore, The Waterboy, Big Daddy, Click and Bedtime Stories.
He appeared in Episode 4200 to sing a "Song About Elmo" and in Episode 4197 to present the word "crunchy" with Cookie Monster. Sandler had previously auditioned for Jim Henson's Handmade Video project.[1]
Sources
External links
Ad blocker interference detected!
Wikia is a free-to-use site that makes money from advertising. We have a modified experience for viewers using ad blockers

Wikia is not accessible if you've made further modifications. Remove the custom ad blocker rule(s) and the page will load as expected.