Ad blocker interference detected!
Wikia is a free-to-use site that makes money from advertising. We have a modified experience for viewers using ad blockers

Wikia is not accessible if you've made further modifications. Remove the custom ad blocker rule(s) and the page will load as expected.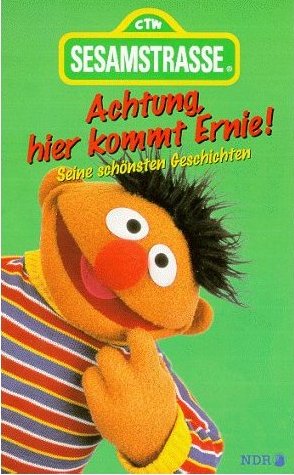 | | |
| --- | --- |
| Release Date | 1998 |
| Format | VHS |
Achtung, hier kommt Ernie!: Seine schönsten Geschichten ("Attention, Here Comes Ernie!: His Best Stories") is a Sesamstrasse video released in 1998, compiling several songs and sketches from Sesame Street about Ernie.
Segments
Ernie's ice cube collection
Ernie gets Bert to share his cookie
Ernie and Bert at the Movies: Lady with a tall hat
Who is who: Cookie Monster and Ernie
Ernie and passengers love their boat
Ernie turns on a fan while Bert tries to write
Bert and Ernie make the bed
Lefty tries selling Ernie an invisible ice cream cone
Cookie Monster appears as the Cookie Bunny
Ernie brings home a surprise
Ernie prepares to write a story
The Count hires Ernie to answer his phone
Bert is away, so Ernie calls him using the phone
Cookie Monster finds a cookie jar and gets happy and sad
Ernie makes up a lullaby for Bert
Caveman Days: Crossing the Street