Ad blocker interference detected!
Wikia is a free-to-use site that makes money from advertising. We have a modified experience for viewers using ad blockers

Wikia is not accessible if you've made further modifications. Remove the custom ad blocker rule(s) and the page will load as expected.
The Muppets and Jim Henson's Creature Shop have long played host to accomplished actors and technicians. Many have been nominated for Academy Awards, and a select group have won. The following tracks all Academy Award winners, in any class, who have worked directly with the Muppets or Henson, by year of the ceremony, covering films from the previous year.
1939
1942
1946
Anne Revere, Best Actress in a Supporting Role, National Velvet
1951
1958
1959
Bugs Bunny, Best Animated Short Subject, Knighty Knight Bugs
1960
1961
1962
1963
Anne Bancroft, Best Actress in a Leading Role, The Miracle Worker
1965
1967
1969
1970
Goldie Hawn, Best Actress in a Supporting Role, Cactus Flower
1971
1972
1973
1974
1975
1976
1977
1978
1979
1980
1981
1982
1983
1985
1986
William Hurt, Best Actor in a Leading Role, Kiss of the Spider Woman
Anjelica Huston, Best Actress in a Supporting Role, Prizzi's Honor
1987
1988
Cher, Best Actress in a Leading Role, Moonstruck
1989
1990
1991
1992
1993
1994
1995
1996
1997
1998
Helen Hunt, Best Actress in a Leading Role, As Good as It Gets
Robin Williams, Best Actor in a Supporting Role, Good Will Hunting
1999
2000
2001
2002
2003
2004
Tim Robbins, Best Actor in a Supporting Role, Mystic River
2005
2006
2007
2009
2010
2011
2012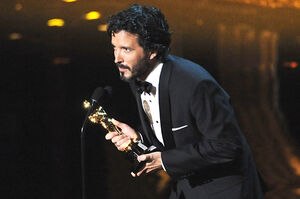 2013
2014
2015
External links