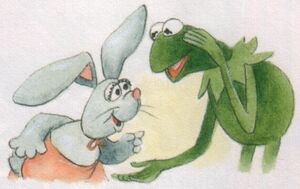 Abbot is the head rabbit of an acrobatic rabbit act which is set to perform at The Muppet Theatre in the short story The Floppy Hopper Dropper Stopper. He informs Kermit that the act is missing their Floppy Hopper Dropper Stopper, and cannot go on without it. After an exhaustive search, Kermit and Scooter come up empty handed, but Abbot tells Kermit they have found the stopper, but are now in need of a Simple Single Thimble Cymbal, which results in a Frantic, Frenzied Froggy.
Ad blocker interference detected!
Wikia is a free-to-use site that makes money from advertising. We have a modified experience for viewers using ad blockers

Wikia is not accessible if you've made further modifications. Remove the custom ad blocker rule(s) and the page will load as expected.