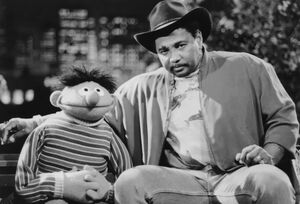 Aaron Neville (b. 1941) is a vocalist, both solo (including Grammy-winning performances with Linda Ronstadt) and with his siblings in The Neville Brothers. He sang "I Don't Want to Live on the Moon" with Ernie for Sesame Street; his vocals were mixed with Jim Henson's original performance. (EKA: Episode 3242)
A clip of this segment was included in Sesame Street All-Star 25th Birthday: Stars and Street Forever!
External links
Ad blocker interference detected!
Wikia is a free-to-use site that makes money from advertising. We have a modified experience for viewers using ad blockers

Wikia is not accessible if you've made further modifications. Remove the custom ad blocker rule(s) and the page will load as expected.