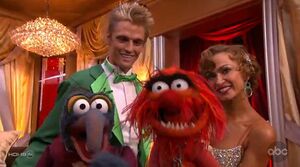 Aaron Carter (b. 1987) was a teen pop singer in the late 1990's. He appeared with his older brother Nick Carter to sing "Loud and Soft" in a 2003 episode of Sesame Street.
Along with his dance partner Karina Smirnoff, the duo danced to "The Muppet Show Theme" on Dancing with the Stars. Gonzo and Animal made special appearances during the number.
On Broadway, Carter appeared in the Dr. Seuss musical Seussical. His sparse acting credits include appearances in the live action adaptation of Fat Albert and the television series 7th Heaven.
External links
Ad blocker interference detected!
Wikia is a free-to-use site that makes money from advertising. We have a modified experience for viewers using ad blockers

Wikia is not accessible if you've made further modifications. Remove the custom ad blocker rule(s) and the page will load as expected.