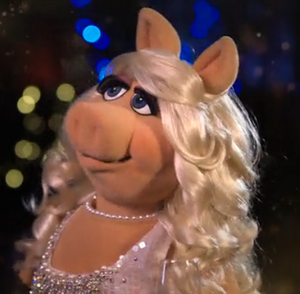 A Toast to 2014! is an NBC end-of-year retrospective special hosted by Kathie Lee Gifford and Hoda Kotb of NBC's Today.[1]
Airing at 8/7c on New Year's Eve 2014, the two-hour prime-time special presented a "star-studded year-end look at the year's buzziest stories, scandals, videos, trends and much more".[2] Miss Piggy appeared to comment on some of the biggest stories of the year.
Other celebrities featured in the special include Debra Messing, Russell Brand, "Weird Al" Yankovic, Sherri Shepherd, William Shatner, Matt Lauer, Al Roker, Natalie Morales, Meredith Vieira, and Maria Menounos.
Sources
Ad blocker interference detected!
Wikia is a free-to-use site that makes money from advertising. We have a modified experience for viewers using ad blockers

Wikia is not accessible if you've made further modifications. Remove the custom ad blocker rule(s) and the page will load as expected.