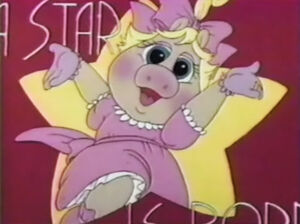 A Star Is Born is the name of a 1937 film and several subsequent remakes that tell the story of a woman who comes to Hollywood to become an star, and falls in love with an established male star.
References
In the Muppet Babies episode "At the Movies," Piggy wants to see a movie called A Rising Star (referencing A Star Is Born). Footage from the 1937 film appears in a sequence where Piggy is trying to star in a movie. Assorted movie crew members call for the director, Mr. Burke (Owen Moore). Andy Devine (as assistant director Danny McGuire) is prominently featured in several shots. In another clip, two make-up artists (Arthur Hoyt and Adrian Rosley) practice their craft on Piggy, only for her to end up in clown make-up.
Connections
Ad blocker interference detected!
Wikia is a free-to-use site that makes money from advertising. We have a modified experience for viewers using ad blockers

Wikia is not accessible if you've made further modifications. Remove the custom ad blocker rule(s) and the page will load as expected.