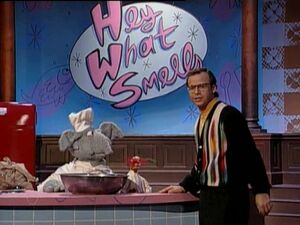 A Salute to Late Fifties Crooners, Obscure British Bands, and Bill Withers was sung by Rick Moranis in episode 202 or Muppets Tonight.
The "Salute" was planned as the closing number, but it was replaced by Seymour and Pepe's cooking show, "Hey What Smells". Undeterred, Moranis sings his medley anyway, while the two deal with an uncontrollable Bread Monster. The chaos is settled when Rick inadvertently uses Dr. Bunsen Honeydew's shrinking machine to shrink the cast and, with no other act around, decides to sing the medley again.
Songs
"Leaning on a Lamp-post"
"Go Away Little Girl"
"Ain't No Sunshine"
"Catch Us If You Can"
"Wives and Lovers"
"From a Window"
Ad blocker interference detected!
Wikia is a free-to-use site that makes money from advertising. We have a modified experience for viewers using ad blockers

Wikia is not accessible if you've made further modifications. Remove the custom ad blocker rule(s) and the page will load as expected.