Ad blocker interference detected!
Wikia is a free-to-use site that makes money from advertising. We have a modified experience for viewers using ad blockers

Wikia is not accessible if you've made further modifications. Remove the custom ad blocker rule(s) and the page will load as expected.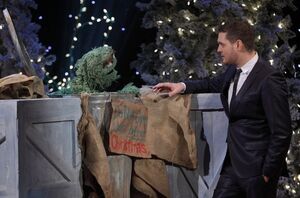 A Michael Bublé Christmas is a television special which aired on NBC on December 6, 2011. Oscar the Grouch was a special guest with Michael Bublé for the special, which also featured Justin Bieber, Tracy Morgan, Kellie Pickler, and Ed Helms.
In the special, Michael finds Oscar's can on stage, with a sign reading "Don't Open Until After Xmas." The lid is opened and Oscar thinks he's avoided Christmas, but Michael points out he hasn't. He then sings to him "Have Yourself a Merry Little Christmas", while Oscar makes comments during the song. Afterward, he goes back into his can, but softly wishes him a Merry Christmas.
Caroll Spinney reflected on the appearance in a 2016 article for Billboard:
"
Michael Bublé had a [2011] Christmas special and said he'd always wanted to do "I Hate Christmas." I was all excited about singing that again, but was then told I couldn't sing a song against Christmas. I argued a little: "Oscar is all upset because he can't sing his song!" I was told [by Sesame Workshop], "It's not politically correct." I said, "The hell with politically correct." So we instead did, "Have Yourself a Merry Little Christmas." But it was more like (in Oscar's voice): "Have yourself a rotten little Christmas."[1]
"
See also
Sources
↑ "An Oral History of 'Sesame Street' Music: One Direction, 'Rubber Duckie,' and Not Eminem", Billboard.com, September 29, 2016