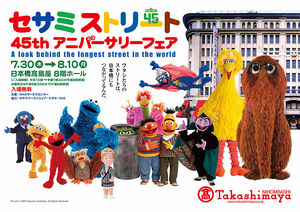 A Look Behind the Longest Street in the World is a special exhibition held at the Japanese department store chain, Takashimaya, specifically its Nihombashi store and Yokohama locations. Celebrating the 45th anniversary of Sesame Street, the exhibition ran from July 30 to August 10, 2015.
The exhibition borrows heavily from the "Somebody Come and Play" exhibit held at Lincoln Center in fall 2014, using many of the same Muppets, photos and memorabilia on display.
Ad blocker interference detected!
Wikia is a free-to-use site that makes money from advertising. We have a modified experience for viewers using ad blockers

Wikia is not accessible if you've made further modifications. Remove the custom ad blocker rule(s) and the page will load as expected.