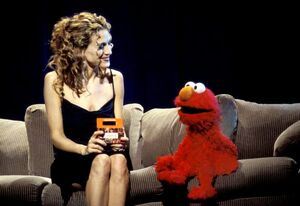 A Gift of Song was a special that aired on TNT to benefit UNICEF. A sequel to the 1979 special of the same name, this special was taped on January 1, 1997. Elmo made an appearance with Sarah Jessica Parker.
Other celebrities included Shawn Colvin, Mary Chapin Carpenter, Celine Dion, Aaron Neville, Chris Rock and Rod Stewart.
External links
Ad blocker interference detected!
Wikia is a free-to-use site that makes money from advertising. We have a modified experience for viewers using ad blockers

Wikia is not accessible if you've made further modifications. Remove the custom ad blocker rule(s) and the page will load as expected.