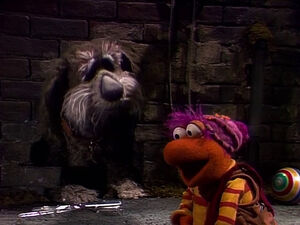 Sprocket tries to follow his ball through the Fraggle hole in Doc's workshop and gets stuck. It's up to Gobo to free the fearsome beast!
At the same time, Doc ends up getting a ring stuck around his finger.
Fraggle Facts
International Versions
UK: Similar to Doc, the Captain gets his finger caught in a ring while Sprocket is stuck in the hole between the lighthouse and the Fraggle Rock. Uncle Travelling Matt participates in a 'great race' (in reality, a department store clothing sale).
Notes
The ring that Doc's finger gets stuck in resembles a Doozer helmet.
Songs
Video releases
Ad blocker interference detected!
Wikia is a free-to-use site that makes money from advertising. We have a modified experience for viewers using ad blockers

Wikia is not accessible if you've made further modifications. Remove the custom ad blocker rule(s) and the page will load as expected.