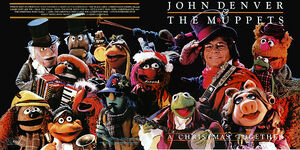 A Christmas Together is an album of Christmas music by John Denver and the Muppets which includes many songs seen later in the TV special of the same name. According to Denver's note from the 1996 CD version, the album was recorded first and led to the TV special. Recording on the album began in Britain on June 29, 1979,[1] and the TV special was videotaped later in the US; as a result, some of the performers and songs differ.
The original album reached #26 on Billboard's Top LP's and Tapes chart in early 1980, and was certified Platinum by the RIAA.
Track listing
Side One
Side Two
Release History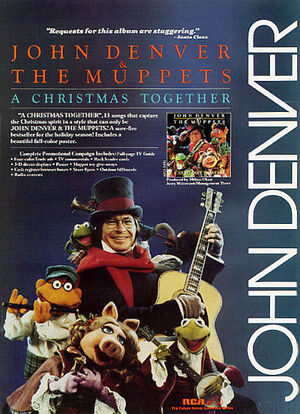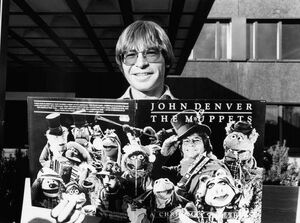 1979 - Released on LP, cassette and 8-track by RCA Records. Some early LP releases are numbered AFL1-3451 on the label and sleeve, with a sticker pasted on the spine with AQL1-3451. The sleeve includes a fold-out photograph of sheet music with art by Michael Frith atop a brown grand piano at which Rowlf was sitting, and a full group photo spanning across the front and back covers.
1990 - Rereleased on CD and cassette by Windstar Records. None of the original album art is reproduced. The cover photo is replaced with a similar photo to that used on the front half of the LP version, mostly likely from the same photoshoot. The back cover and inside fold-out are not included, and so far have not reappeared on any subsequent releases.
1996 - Rereleased on CD and cassette by Laserlight Digital. This version includes an added note from John Denver.
2000 - A cutout bin edition appears, omitting tracks A2, A7, and B1.
December 20, 2005 - Windstar Records released all 13 tracks of the album for digital download via the iTunes Store.
July 25, 2006 - A new "limited collectors edition" CD was released by Laserlight featuring remastered tracks of all 13 songs.
In 2011, Urban Outfitters offered an exclusive reissue of the LP in "Kermit-green vinyl". The original gatefold is included as well as a code to redeem the album as a digital download. [1] This album was also available on John Denver's official website, as well as other vinyl retailers.
In 2012, the album was reissued on LP again as a Record Store Day exclusive, once again on green vinyl, but with a slightly different back cover. A new corresponding issue on CD was also released to retailers.
In 2013, the album was reissued on vinyl yet again, as another Record Store Day exclusive, for the first time as a picture disc, in a clear plastic sleeve. The pictures on the disc are the front and back covers of the album.
In 2017, Newbury Comics carried an exclusive red and white colored vinyl print.
The Muppet Performers
Credits
Producer: Milton Okun
Concept by: Jim Henson and John Denver
John Denver (vocals, 12 string-guitar), Hal Blaine (drums, percussion), James Burton (electric & acoustic guitars, dobro), Emory Gordy, Jr. (bass), Glen D. Hardin (keyboards), Jim Horn (reeds), Herb Pedersen (banjo, electric & acoustic guitars), Denny Brooks (acoustic guitar), Danny Wheetman (mandolin, harmonica)
Tracks arranged by: Hal Blaine, James Burton, Emory Gordy, Jr., Glen D. Hardin, Jim Horn, Herb Pedersen, Denny Brooks, Danny Wheetman, and John Denver
Orchestral arrangements: Lee Holdridge
Vocal arrangements & conductor: Ray Charles
Art direction and illustrations: Michael K. Frith
Photography: Nancy Moran, Donal Holway
Special thanks to: Calista Hendrickson, Kathryn Mullen, Martin Baker, Anne Gayler, and Barney Wyckoff (for tea & glee)
Recording engineer: Ed Barton
Assistant engineers: Ralph Osborn, Thad Blake, Andrew Clarke, Andy Todd, Randy Pipes
A&R coordination: Lynne Morse
Additional art coordination: Suzanna Kotnik
Other releases
International releases
Sources
↑ "Jim Henson's Red Book" entry, 6/29/1979 – Begin recording Christmas Album with John Denver.
See also