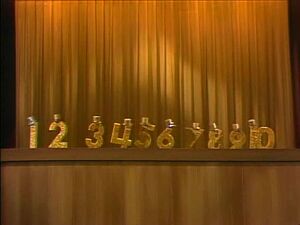 A Chorus Line is a Broadway musical by James Kirkwood, Jr. and Nicholas Dante that debuted in 1975, and ran until 1990, becoming one of the longest-running musicals in Broadway history. The show was also made into a film in 1985. It is about nineteen performers who hope to earn a spot in a Broadway chorus line.
References
A proposed 10th anniversary special for Sesame Street, A-B-Chorus Line, derived its working title and basic premise from the musical, where the regular cast of the series is shown auditioning for the show.
In a Sesame Street insert, a chorus line of golden, glittery numbers sing the song "One" from the musical.
Connections
External links
Ad blocker interference detected!
Wikia is a free-to-use site that makes money from advertising. We have a modified experience for viewers using ad blockers

Wikia is not accessible if you've made further modifications. Remove the custom ad blocker rule(s) and the page will load as expected.