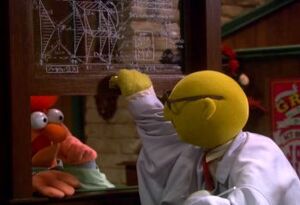 A Beautiful Mind is a 2001 film directed by Ron Howard, based on book chronicling the life of John Forbes Nash. The film won four Academy Awards, for adapted screenplay, actress, director, and picture.
The film was referenced in It's a Very Merry Muppet Christmas Movie with Beaker and Dr. Bunsen Honeydew referencing a scene made famous in the film with Nash (Russell Crowe) writing equations on a glass window. In the Muppet Version, Beaker's fingers get smashed within the window sill, and he also tells Bunsen that he has "A Beautiful Mind".
Connections
External links
Ad blocker interference detected!
Wikia is a free-to-use site that makes money from advertising. We have a modified experience for viewers using ad blockers

Wikia is not accessible if you've made further modifications. Remove the custom ad blocker rule(s) and the page will load as expected.