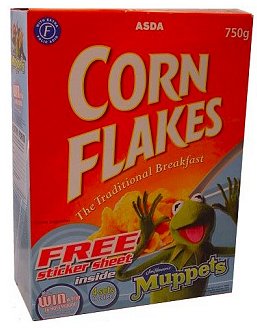 ASDA Corn Flakes, produced for the UK supermarket ASDA, featured a Muppet promotion in 2003.
The front of the box featured a picture of Kermit the Frog. The back of the box had trivia on The Muppet Show, information about the Kermit's Swamp Years DVD, and a competition to win a trip to Hollywood to visit the Jim Henson Company studios.
A set of Muppet stickers was included as a premium inside the box.
Ad blocker interference detected!
Wikia is a free-to-use site that makes money from advertising. We have a modified experience for viewers using ad blockers

Wikia is not accessible if you've made further modifications. Remove the custom ad blocker rule(s) and the page will load as expected.