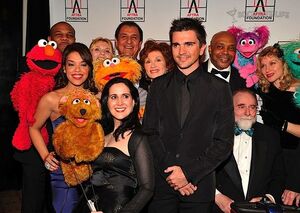 The AFTRA Media and Entertainment Excellence Awards (or AMEE Awards) are annual awards given by the American Federation of Television and Radio Artists in the fields of Broadcasting, Recording, and Entertainment.
The cast of Sesame Street was awarded the AMEE Award in Entertainment on February 22, 2010 in honor of their 40th Anniversary. Other honorees that year included Robin Roberts, Juanes, Sam Moore and Charles Osgood.
External links
Ad blocker interference detected!
Wikia is a free-to-use site that makes money from advertising. We have a modified experience for viewers using ad blockers

Wikia is not accessible if you've made further modifications. Remove the custom ad blocker rule(s) and the page will load as expected.