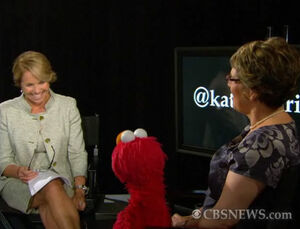 @katiecouric is a weekly one-hour interview program hosted by Katie Couric for CBSNews.com. The video webshow launched in 2009 and has welcomed such guests as Michelle Obama, Ellen DeGeneres, Hugh Jackman, and Al Gore.
In an April 2010 episode of the webshow Couric spoke with Dr. Jeanette Betancourt and Elmo about how children cope with the death of a parent, the grieving process, and the Sesame Workshop initiative "When Families Grieve."
External links
Ad blocker interference detected!
Wikia is a free-to-use site that makes money from advertising. We have a modified experience for viewers using ad blockers

Wikia is not accessible if you've made further modifications. Remove the custom ad blocker rule(s) and the page will load as expected.