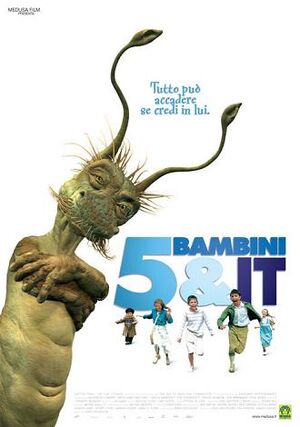 5 Bambini e It, also known as 5 Bambini e Lui, is the Italian dub of Five Children and It. It debuted in Italy on the home video market, distributed by Medusa Video, in 2006.
Voices
Alex Polidori as Robert
Flavio Aquilobe as Cyril
Virginia Brunetti as Anthea
Claudia Mazza as Jane
Jacopo Bonanni as Horace
Leo Gullotta as It
Credits
Italian Dialogue: Filippo Ottoni
Director: Elettra Bisetti
Recording Assistant: Mary Valles
Ad blocker interference detected!
Wikia is a free-to-use site that makes money from advertising. We have a modified experience for viewers using ad blockers

Wikia is not accessible if you've made further modifications. Remove the custom ad blocker rule(s) and the page will load as expected.