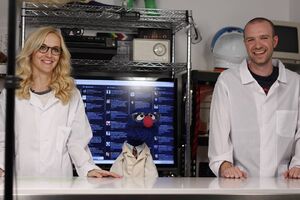 #5facts is a webshow produced by Mashable.com and hosted by Matt Silverman and Annie Colbert. The show shares facts about science, history and pop culture.
Grover and Bert appeared in the episode posted on October 9, 2013 presenting "5 Fun Science Experiments for Kids" and promoting Sesame Street's Little Discoverers initiative. Following their appearance, a plush Grover doll was added to many items on the set.
Telly Monster later appeared in an episode presenting "5 Hidden Worlds Revealed Under a Microscope", uploaded on April 3, 2014.
External links
Ad blocker interference detected!
Wikia is a free-to-use site that makes money from advertising. We have a modified experience for viewers using ad blockers

Wikia is not accessible if you've made further modifications. Remove the custom ad blocker rule(s) and the page will load as expected.