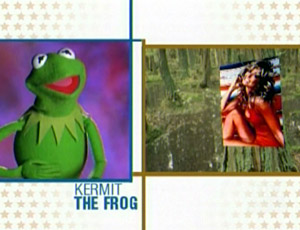 TV Land honored the 50 Greatest TV Icons on November 16th, 2007. Kermit the Frog was ranked at number 21.
Kermit was also featured as a commentator on the program, and shared his thoughts on Lassie, the Fonz, Farrah Fawcett and Carol Burnett. When actors representing the first season cast of Saturday Night Live were featured, a photo of Gilda Radner with the Seven-foot-tall Talking Carrot from episode 304 of The Muppet Show was shown.
In addition to the icons celebrated, other commentators included Wil Wheaton, Kelly Ripa, Elliott Gould, Jeffrey Tambor, Jason Alexander, and Maya Angelou.
Full List
External links
Ad blocker interference detected!
Wikia is a free-to-use site that makes money from advertising. We have a modified experience for viewers using ad blockers

Wikia is not accessible if you've made further modifications. Remove the custom ad blocker rule(s) and the page will load as expected.