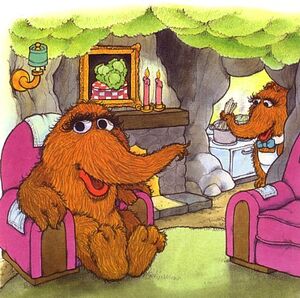 456 Snuffle Circle is the address where Mr. Snuffleupagus lives with his mother, father, and sister Alice. The address is given in the 1989 book Bert and the Magic Lamp.
The interior is a cross between a dank cave and a cozy suburban home. The walls are bare stone, but the living room has comfortable chairs and a fireplace. The ceiling of the cave is covered in green moss, which the Snuffleupaguses like to pick off as a snack. Their kitchen is outfitted with a stove. A stream runs through one part of the cave, where the family bathes.
The cave is connected by tunnels to other caves in the neighborhood, including the home of Aunt Agnes Snuffleupagus. Another tunnel leads to the home of the Count's bats.
Big Bird visits Snuffy's cave in The Day Snuffy Had the Sniffles, to cheer him up while he's sick.
Gallery
Ad blocker interference detected!
Wikia is a free-to-use site that makes money from advertising. We have a modified experience for viewers using ad blockers

Wikia is not accessible if you've made further modifications. Remove the custom ad blocker rule(s) and the page will load as expected.