20 Bands Trash 20 Songs to Find the Way to Sesame Street
Talk

0
Share
Songs from
Sesame Street
Released
Format
LP
Label
Bun Length, Etc.
Cat no.
BL-3
20 Bands Trash 20 Songs to Find the Way to Sesame Street is a compilation album by various punk bands, all performing songs from Sesame Street. This album was later reissued on CD as 31 Bands Trash 31 Songs to Find the Way to Sesame Street, with 11 additional songs.
Track listing
Side One
Side Two
CD bonus tracks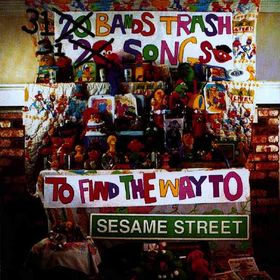 [[Image:|center|280px]]
Songs from
Sesame Street
Released
Format
CD
Label
Bun Length, Etc.
Cat no.
BL-8
Ad blocker interference detected!
Wikia is a free-to-use site that makes money from advertising. We have a modified experience for viewers using ad blockers

Wikia is not accessible if you've made further modifications. Remove the custom ad blocker rule(s) and the page will load as expected.