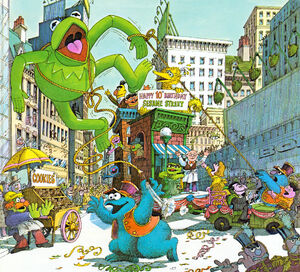 Features the following illustrations:
Centerfold: A two-page spread for Sesame Street's 10th Birthday
Notes
The Kermit the Frog balloon from the Macy's Thanksgiving Day Parade is seen in the November illustration. This is one of the rare times Kermit is included in Sesame Street merchandise other than videos or albums.
Ad blocker interference detected!
Wikia is a free-to-use site that makes money from advertising. We have a modified experience for viewers using ad blockers

Wikia is not accessible if you've made further modifications. Remove the custom ad blocker rule(s) and the page will load as expected.