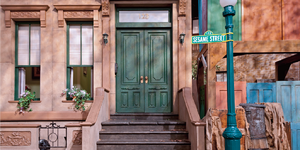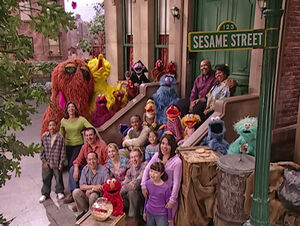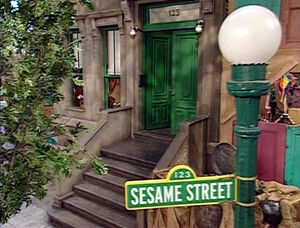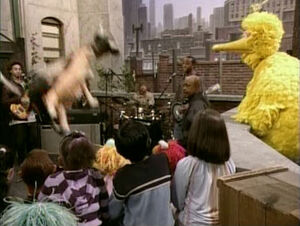 123 Sesame Street is the most famous address on Sesame Street, located right next door to Oscar's trash can and Big Bird's nest. It is bordered on the other side by a storage facility and the arbor adjoining Hooper's Store. It is a large brownstone apartment building with an inviting front stoop.
The basement of the building contains the rather spartan apartment of Ernie and Bert, as well as the laundry room. There is also an access to the area beneath Oscar's trash can. The ground floor is home to Gordon, with his wife Susan and son Miles, until Season 46 when Elmo moved into that place. Gordon and Susan appear to be the owners of the building. The top floor is home to Luis with his wife Maria and daughter Gabi. Originally Gordon's sister Olivia lived in the top floor apartment, but she moved away when Maria and Luis got married. With its big fireplace, the upper apartment is a favorite gathering place during cold weather and blackouts. The roof of the building is where Bert keeps his pigeon coops. It is also a favorite gathering place for social events such as weddings and sing-alongs. The area directly to the right of the building is a courtyard that is enclosed in a wall made of discarded doors to form a living area for Big Bird. In Season 42, Maria became the new building superintendent.
Grover has been a resident; the 1985 book "When Grover Moved to Sesame Street" shows Grover and his mommy moving into 123. Other books like "Grover's Bad, Awful Day", show Grover and his mommy living in a house and other books show them living in another apartment across the street.
As of 2011, there were some available apartments at 123 Sesame Street. Elmo says that his parents consider the rent for the building quite economical, especially compared to other rental facilities in New York City.[1]
Fisher-Price made a playset of 123 Sesame Street as part of its Little People line in 1975. When Palisades Toys got the license to make "Sesame Street" action figures, the original plan was to release two different types of figures: collector's-market versions that came with parts of the street and family-market versions without extra pieces. The street pieces were to be put together into a playset and the first series was to come with parts of 123 Sesame Street.
The front doors to this building were originally green. In Season 33, they were changed to red; later in Season 35, they were green again.
Trivia
Actual locations called 123 Sesame Street
Sources
↑ Aubry D'Arminio, "Sutton Foster and Elmo talk 'Sesame Street,' premiere clip from the Broadway star's upcoming appearance", Entertainment Weekly, 10 June 2011.