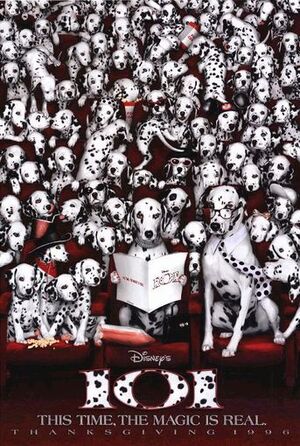 | | |
| --- | --- |
| Released | 1996 |
| Duration | 103 min |
| Director | Stephen Herek |
| Written by | John Hughes |
| Music | Michael Kamen |
| Studio | Walt Disney Pictures |
| Rated | G |
101 Dalmatians is a 1996 live-action remake of the 1961 animated Disney film One Hundred and One Dalmatians, which itself was based on the 1956 novel The Hundred and One Dalmatians by Dodie Smith. Unlike the animated film, nor the novel, none of the animals featured speak.
Jim Henson's Creature Shop provided the animatronic effects for the movie. Creature Shop animals included the young and newborn Dalmatian puppies, a raccoon, skunk, and various farm animals
Cast
Jim Henson's Creature Shop
Creature Shop supervisor: John Stephenson
Creative supervisor: Neal Scanlan
Production supervisor: Karen Cassie
Production coordinator: Roma O'Connor
Designers/Sculptors: Jeremy Hunt, Graham High, Barry Sutton, Nigel Booth, Ray Scott, Marion Appleton, Carole De Jong
Hair supervisor: Vicky Stockwell
Senior hair technician: Val Jones
Hair technicians: Sarah Brunsdon, Helen Christie, Jenny Phelps Helen Pitcher, Jeni Walker
Flock supervisor: Esteban Mendoza
Fabrication supervisor: Sheila Hallatt
Assistant fabricators: Sam Broadbent, Louisa Jordan, Janet Knechtel, Howard Swindell, Nicola Tedman
Animatronic supervisor: Jason Reed
Animatronic designers: Richard Darwin, Robin Ellis, Chris Howes, Jamie Jackson-Moore, Ian Mitchell, Tom Murtagh, Andy Roberts, Guy Stevens
Animatronic assistant: Tamzine Hanks
Electronics supervisor: Anton Boniface
Foam Department: Marie Cowie-Fraser, Simon Clutterbuck
Mould department supervisor: Kenny Wilson
Mould makers: Mel Coleman, Steve Court, Barry Fowler, Terry Sibley
Mould department assistant: Dave Kelly
See also
Ad blocker interference detected!
Wikia is a free-to-use site that makes money from advertising. We have a modified experience for viewers using ad blockers

Wikia is not accessible if you've made further modifications. Remove the custom ad blocker rule(s) and the page will load as expected.