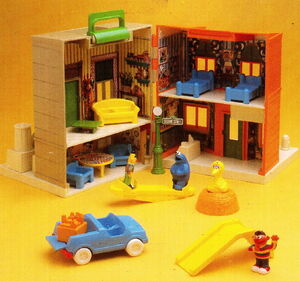 The 1-2-3 Sesame Street Playset was released by CBS Toys in 1984,[1] under the Child Guidance label. The set was re-released by Hasbro under the Playskool label in 1986.[2] This set is a re-creation of the "Sesame Street Apartments" playset made for the Fisher-Price Little People in 1974.
The 18-piece set includes two buildings, which, folded together, serve as a carrying case. The right side depicts 123 Sesame Street, with Ernie and Bert's apartment inside. Oscar the Grouch sits in his trash can, and can pop up at the push of a button. Big Bird's nest is also included. On the left side is Hooper's Store. Inside the lower level is the store while upstairs shows more of Ernie and Bert's apartment.
Four figures are included: Big Bird, Cookie Monster, Ernie, and Bert. Accessories include the Sesame Street sign, two beds, a breakfast table, and a flatbed truck.
This set was the fourth of four Sesame playsets made by CBS Toys; the others are the Sesame Street Garage (1981), Sesame Street Railroad (1982), and the Sesame Street Firehouse (1983).
Sources
↑ "Children's Television Workshop Products Group newsletter", William Whaley. January 25, 1984. Accessed at CTW archives, Box 2, folder 16.
↑ "Children's Television Workshop Products" catalog, 1986. CTW archives, Box 2, folder 17.
Ad blocker interference detected!
Wikia is a free-to-use site that makes money from advertising. We have a modified experience for viewers using ad blockers

Wikia is not accessible if you've made further modifications. Remove the custom ad blocker rule(s) and the page will load as expected.