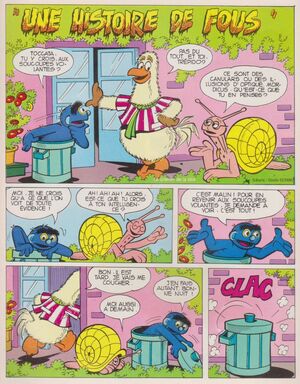 1, Rue Sésame Mensuel was a monthly magazine published in the early 80s as a tie-in with 1, Rue Sésame, the French co-production of Sesame Street. ("Mensuel" is French for "monthly magazine".)
Each issue of 1, Rue Sésame began with a comics story featuring Toccata, Mordicus and Trepido.
The magazine also featured articles from the German Sesamstrasse magazine, as well as American contents (sometimes from books like The Sesame Street Dictionary) and Dutch material. Every now and then, Tommie and Pino from Sesamstraat would interact with Sesamstrasse characters Samson and Tiffy.
See also
External links
Ad blocker interference detected!
Wikia is a free-to-use site that makes money from advertising. We have a modified experience for viewers using ad blockers

Wikia is not accessible if you've made further modifications. Remove the custom ad blocker rule(s) and the page will load as expected.