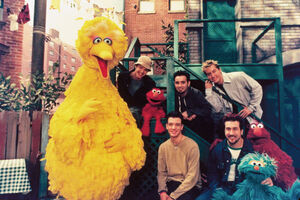 *NSYNC is a boy band whose four albums, released between 1998 and 2001, rocketed the group to superstardom. The group's members were Lance Bass, JC Chasez, Joey Fatone, Chris Kirkpatrick, and Justin Timberlake. Only Timberlake and Chasez have released solo albums since the band broke up, while Bass and Fatone have appeared on Broadway, with Fatone starring in Little Shop of Horrors.
The group appeared on Sesame Street during Season 31, singing "Believe in Yourself" with the Sesame cast. Their version of the song appears on the Songs from the Street CD set.
Ad blocker interference detected!
Wikia is a free-to-use site that makes money from advertising. We have a modified experience for viewers using ad blockers

Wikia is not accessible if you've made further modifications. Remove the custom ad blocker rule(s) and the page will load as expected.