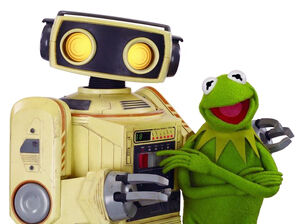 '80s Robot is a new character who debuted in the 2011 movie The Muppets. Unlike the principal Muppet characters, '80s Robot was designed and built by Legacy Effects. He lives in Kermit's mansion, working as a valet or manservant to Kermit after the break up of the Muppets.
'80s Robot also functions as a chauffeur, and uses his databanks and search engine to locate the Muppet troupe. As his name implies, the character resembles the many robots who dominated the toy, novelty, and pop culture landscape in the 1980s. He uses slang from the era, and offers such beverages as Tab and New Coke. (80s Robot bears an uncanny resemblance to Omnibot 2000, a robot toy made by Tomy in the 80s, as well as Nintendo's ROB.)
A June 2011 ComingSoon.net article described the character during filming:
"
'80s Robot looks exactly like a larger scale version of any generic sci-fi toy you would have seen on your local drug store toy aisle back in the early '80s. Unlike most Muppets, '80s Robot appeared to be almost 100% plastic. Not the traditional felt and cloth we associate with Muppets. To that end, it is probably incorrect to label '80s Robot a Muppet at all.[1]
"
In an interview with The Magazine, Kermit talked of '80s robot's career:
Q: After the film, who got possession of the '80s robot?
A: Possession? Oh no one "owns" the '80s robot. He's independent, has his own agent and publicist and everything. From what I understand, he's reading scripts and looking for his next project, which I suspect will be a remake of a sci-fi hit from the '80s.
'80s Robot also made brief background appearances in the 2014 film Muppets Most Wanted. He was featured most prominently singing "Together Again" in the finale.
Notes
In the screen credits and other press material, the character is listed as "80's Robot," incorrectly marking the decade as a possessive rather than an abbreviated adjective.
See also
Sources
↑ Wright, Blake. "It's Time to Light the Lights! On Set with The Muppets, Comingsoon.net. June 20, 2011.
Ad blocker interference detected!
Wikia is a free-to-use site that makes money from advertising. We have a modified experience for viewers using ad blockers

Wikia is not accessible if you've made further modifications. Remove the custom ad blocker rule(s) and the page will load as expected.