Ad blocker interference detected!
Wikia is a free-to-use site that makes money from advertising. We have a modified experience for viewers using ad blockers

Wikia is not accessible if you've made further modifications. Remove the custom ad blocker rule(s) and the page will load as expected.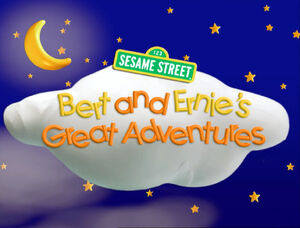 Ævintýri Berta og Árna (The Adventures of Bert and Árni) is the Icelandic dub of Bert and Ernie's Great Adventures.
The show premiered in early 2015 on RÚV. Another Sesame Street production, Hopp og hí Sessamí, aired on the network in 2014.
The title card was not localized.
Voices
Pétur Örn Guðmundsson
Steinn Ármann Magnússon
Sigríður Eyrún Friðriksdóttir
Víðir Guðmundsson
Orri Huginn Ágústsson
Inga Maria Valdimarsdóttir
Additional credits
Dubbing Studio: Sýrland