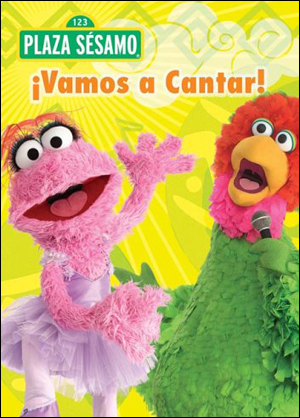 | | |
| --- | --- |
| Release Date | 2005 |
| Produced by | Ventura Entertainment |
| Catalogue no. | 28172-7 |
| Format | DVD |
| Discs | 1 |
| Region | 1 |
| ASIN | |
¡Vamos a Cantar! (Let's Sing!) is a Plaza Sésamo video from 2005, mainly featuring song segments.
Segments
Abelardo and friends plan to sing a song indoors while it rains. They scat until the rain stops, so they sing outdoors as well.
Lola and her friends sing about the different ways of greeting someone.
Song: "Jump"
Cartoon: A music note conductor introduces the next segment.
Song: "Si Estas Feliz"
Grover, Herry, Cookie Monster and Frazzle perform "Fuzzy and Blue (and Orange)."
Carmen sings to some sad children about how special they are.
Abelardo sings "Me Gusta Ser Yo"
Film: A song about children.
Lola sings about being happy.
Cartoon: a boy reads a book and imagines his surroundings transform into a jungle.
Pancho conducts Don Boni and Lola, who have wind instruments. Elefancio his his trunk to blow wind and send them away.
Elmo sings "The Sound That's in the Air."
Song: "Imagine"
Ernie sings "Imagine That."
Song: "When You Grow Up"
Cartoon: A music note conductor introduces the next segment.
Pancho, dressed a Marchiachi player, plays the triangle for his plaza friends, but learns his trio can't consist of just one person. He grabs Lola, but that makes it a duo. He gets Abelardo and now has a trio.
Abelardo and friends sing a story while counting to 7.
Cartoon: Dancers show forward and backward.
Kermit sings "Caribbean Amphibian."
Lola and her Multimonstruo friend play the drums.
Film: Jamaican kids play the drums.
Cartoon: African quilt pattern
Ernie sings "That's What Friends are For" to Bert.
Susana sings to a boy to tell him what an important friend he is.
Song: "Mi Familia es Lo Mejor"
The plaza patrons sing about how everyone there is their family.
Song: "We're Doing the Family Thing"
Lola dances to different kinds of music that make her happy and sad.
Cartoon: a girl dances with a dog and an alligator.
Maria and Susana liven up the lazy plaza with a song.