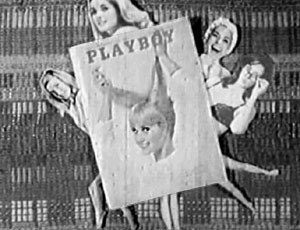 Playboy is a monthly magazine, founded in 1953 by Hugh Hefner and his associates. The magazine is published monthly and features photographs of nude women, along with various articles on fashion, sports, consumer goods, and public figures. It also has short fiction by top literary writers. Playboy's use of "tasteful" nude photos is often classified as "softcore" in contrast to the more "hardcore" pornographic magazines that started to appear in the 1970s in response to the success of Playboy's more explicit rival, Penthouse.
In a 1966 presentation for La Choy, the magazine is featured during a Superman-esque introduction which claims that the La Choy Dragon is "sexier than Playboy."
A copy of Playboy can also be seen on the conference table for a Wilson's Meats Meeting Film.
Connections
Several artists whose work has appeared in Muppet/Henson productions have also contributed to Playboy.