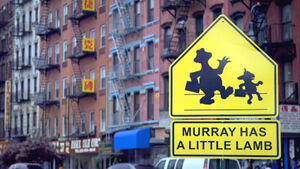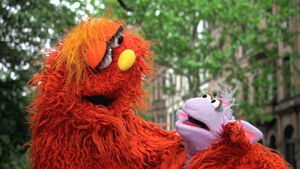 Murray Has a Little Lamb is a recurring Sesame Street segment that debuted in Season 39. The six and a half minute sketch stars Murray Monster and a pink lamb named Ovejita who only speaks Spanish. It features a Carribean-esque theme song which is a rap variation on the classic nursery rhyme "Mary Had a Little Lamb", sung by Tony winner Lin-Manuel Miranda. Sometime during that season, the theme song was shortened. While the sketch appeared in every episode in Season 39, beginning in the following season, it is not played on every episode, and alternates with Bert and Ernie's Great Adventures. Also during Season 40, the guessing game portion of the segment is cut, and a new intro is added that leads them straight to the school.
Each sketch begins with Ovejita providing clues to help Murray guess (adivina) what kind of school they will visit. The clues are hidden all over the city; they can be seen inside a hot dog cart, in a pizza box, at a newspaper stand, in a tree with a magic button, in a garden with a watering can, on the slide at a playground, and on moving statues. When Ovejita uses an animal as a clue, a Muppet animal can be included. After each "clue" is revealed, Ovejita presents the word in Spanish several times, and Murray translates. Then he makes a guess about the type of school and/or asks for more clues. After the third clue, he starts to guess when Ovejita says "¡Adivina!" and then he and Ovejita arrive at the school in time to yell out the name with a bunch of children. Usually, Murray would stop Ovejita from saying that because the answer is on the tip of his tongue. The rest of the segment involves Murray asking questions and learning about what happens at the school, interacting with the children and teachers, and trying out the activities. Ovejita is seen participating as well.
The segments were directed by Joey Mazzarino and Matt Vogel[1] (who directed the "Art School", "Soccer School", "Ice Skating School" and "Baseball School" segments [2]). The segment's theme song was written by Judy Freudberg, Joey Mazzarino, Bill Sherman and Belinda Ward.[3]
Segments
| Picture | School | First Appearance | Description |
| --- | --- | --- | --- |
| | Karate Class (Escuela de Karate) | Episode 4161 | Ovejita, gives clues about which escuela they'll be visiting today, each one a different color belt (un cinturon), green (verde) and white (blanco), as well as a kick (un patea). The school turns out to be a karate class, where Murray and Ovejita learn how to do karate, and Murray eagerly anticipates breaking a board. |
| | Farm School (Escuela de Granjeria) | Episode 4162 | Ovejita leads Murray to another escuela (school) using the clues of una gallina (chicken), un cerdo (a pig), y una vaca (a cow). The school turns out to be farm school, where kids learn how to be veterinarians (people who take care of plants and animals). |
| | Science and Nature School (Escuela de Ciencias y Naturales) | Episode 4163 | Ovejita leads Murray to another secret escuela with the clues of insectos (bugs), un sapo (a frog), y una lupa (a magnifying glass). The school turns out to be the Science and Nature program at the American Museum of Natural History, where kids learn about bugs, amphibians and reptiles. They also learn about camouflage, and go on a safari outside. |
| | Music School (Escuela de Musica) | Episode 4164 | Ovejita leads Murray to another secret escuela with the clues of una flauta (a flute), un tambor (a drum), y una guitarra (a guitar). The school turns out to be a music school, where kids learn to sing and play instruments. Murray learns how to play the violin and the piano, and Ovejita shows skill on the saxophone. |
| | Gymnastic School (Escuela de Gimnasia) | Episode 4165 | Murray's lamb, Ovejita, leads him to another secret escuela with the clues of un leotardo (a leotard), unos aros (rings), y una voltereta (a cartwheel). The school turns out to be a gymnastics school, where kids do exercises. |
| | Soccer School (Escuela de Futbol) | Episode 4166 | Murray's lamb, Ovejita, leads him to another secret escuela with the clues of un uniforme (a unform), una pelota (a ball), y una patea (a kick). The school turns out to be a soccer school, where kids practice playing soccer. Murray tries being a goalie, and dribbling the ball with his feet. |
| | Baseball School (Escuela de Beisbol) | Episode 4167 | Murray's lamb, Ovejita, leads him to another secret escuela with the clues of un bate (a bat), un guante (a glove), y una pelota (a ball). Murray thought that they are going to swimming school, but the school turns out to be a baseball school, where kids practice playing baseball. With practice, Murray eventually hits a home run. |
| | Irish Step Dancing School (Escuela de Baile Irishes) | Episode 4169 | Murray's lamb gives him clues to the secret escuela they're visiting. The clues she gives are musica (music), zapatos (shoes) y baila (dance). The school is revealed to be Irish Step Dancing School. Murray struggles learning how to kick, but with practice, he is able to do a jig. |
| | Cooking School (Escuela de Cocina) | Episode 4170 | Murray's lamb, Ovejita, leads him to another secret escuela with the clues of un sartén (a pan), una espatula (a spatula), y un sombrero de cocinero (a chef's hat). The school turns out to be a cooking school, where kids practice cooking various things. Today, they learn how to make stuffed corn tortillas and guacamole. |
| | Art School (Escuela de Arte) | Episode 4171 | Murray's lamb, Ovejita, leads him to another secret escuela with the clues of pintura (paint), pegamento (glue), y masilla (clay). The school turns out to be an art school, where kids create art of all kinds. Murray and Ovejita draw and paint pictures of fish with the kids, and try out the potter's wheel (with Ovejita spinning on the wheel as Murray controls it). |
| | Drumming School (Escuela de Tocar el Tambor) | Episode 4172 | Murray's lamb, Ovejita, takes him to yet another secret escuela with the clues of un tambor (a drum), pallitos (drumsticks) y tocar el tambor (play the drum) . The school turns out to be drumming school. At school, Murray learns all about the different kinds of drums and how to play one properly while Ovejita uses drum mallets. |
| | Gardening School (Escuela de Jarderia) | Episode 4173 | Murray's lamb, Ovejita, leads him to another secret escuela. His clues this time are una pala (shovel), tierra (dirt) y vegetales (vegetables). The school is revealed to be gardening school, where Murray how to grow and take care of plants. |
| | Ice Skating School (Escuela de Patinaje por Hielo) | Episode 4176 | Murray's lamb, Ovejita, leads him to another secret escuela, with the clues of medias (socks), un gorro (a hat) and patines de hielo (ice skates). The school turns out to be Ice Skating School, where Murray learns the basics of skating. |
Sources
↑ The Muppet Mindset Interview with Matt Vogel
See also